Q. Why is there no set pricing online?
A. We use standard pricing to begin with, based on our service area radius from Bethelem PA. However estimating a 'standard bathtub' request is not so easy, as we all understand 'standard' to be something varying - 0, 1 or 2 bathtub walls exposed, 2 or 3 wall surround, 3/4 height surround or tub to ceiling surround, enclosed tub surround, shower doors.. likewise with tiled bathrooms. We require square footage to be able to provide a quote for work to be done. A description of 'half wall tile' only tells us a little of what we need to know to be able to help you. Sinks require pictures for quotes as again, sinks vary so much in size and shape, making them difficult to estimate firmly. We have no pricing online as we require more information to be able to confidently quote a project for our clients. All too familiar with other company's 'bait and switch' tactics, we try to be fairly steadfast with our estimates, unless the scope of the work changes upon arrival.
.
.
.
Q. How long will the new finish last?

A. With resurfacing, your fixtures get an extended lifetime of 10-15 years with proper care and maintenance. This is variable however not only with care and maintenance, but the location and use of the fixture/ surface. Naturally a daily used fixture like a kitchen sink will receive more wear and tear than one in a guest bathroom for example, or likewise, horizontal tile being used on a floor or countertop as opposed to vertical wall tile which can last indefinitely. See our video with a durability test on our floor products. Only the highest quality industrial eco-friendly VOC compliant products are applied using HVLP turbine equipment, whose guarantee combined we operate under. In normal words, we spray high quality stuff! Professionally resurfacing fixtures outlasts any paint, epoxy, DIY or home project kit available in stores by years, and surpasses their finish in presentation and quality. Be sure to ask your refinisher what products he is using, if you do not choose to hire us or are outside our service area.

.

.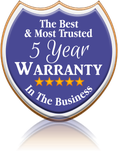 Q. Do you offer a warranty?
A.

Yes. We are so confident in our workmanship and our products that we stand by an extensive written warranty for both residential and commercial properties. Warranty's range from 1 year to 5 years depending on the fixture, it's condition and location. Should you have any questions about our processes or the products we use, just give us a call. It is important to read the Care and Maintenance cleaning guidelines before using a newly resurfaced fixture so as to keep in compliance with your warranty. From our time working with chemists, we advise to be wary of small business individuals or companies offering 10 year warranties. Due to their limited experience with the products, a maximum number of call outs is usually in their fine print, whereas we at Dennie's Resurfacing LLC can come to your property an unlimited number of times until the issue is resolved for both parties. Some great clients reviewed us after they needed to avail of their warranty, if you haven't already been to our testimonials page and read through our reviews. Do contact us before attempting any repairs to ensure that we can honor our warranty to you. Warranties are honorable to the contract signor only. We do not shy away from warranty issues so if you have contacted us and have not received an answer from us, call or text 484.554.1807. We love happy clients!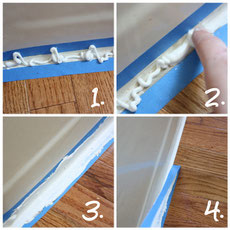 Caulking 101
Apply painters tape to the width of strip desired. Apply caulk and smooth along with finger into any dips or holes to ensure water tight seal. Pull tape when wet and voila!
Picture courtesy of Pinterest.com
.
.
A. Our industrial coating manufacturers boast the extension of fixture life by 15 or even 20 years (depending on location and traffic) with experienced professional application. Abrasives and abrasive cleaners such as Comet or bleaches like Soft Scrub can damage any glossy finish including ours, and greatly decrease it's lifespan and therefore are not recommended as cleaning supplies for your newly refinished surfaces. Read more here >>>
.

.
Q. What is a Slip-Resistant Surface (SRS)?
A.
SRS is a system which Dennie's Resurfacing LLC uses whereby there is no longer a need for non-slip suction cup bath mats or decals in your tub or shower stall. We use an ingenious system where we incorporate an invisible slip-resistant section into the final finish on the base of your fixture, heightening safety and not forgetting to mention the aesthetics of your fixture. Different shaped sections available, hand created to the shape of your fixture, blended into the color of your tub or shower stall. Goodbye bath mats!

Q. Is there anything you need before you arrive?
A. To perform our work, we require a power source, reasonable heat, a source of running water and a window nearby for ventilation. If other renovations or work is being done in the room or nearby, it is best to have those projects finished before we come in to ensure that no workman drops tools or anything of the sort in the tub, which would not be covered by our warranty. We often get asked about the order of work in a bathroom and we like to be in after projects such as new tile work in case of damage. As bathrooms are generally small, we ask that other project tools and equipment be removed from the area before our arrival, likewise with construction dirt, mortar and dust as they can affect the finish. Failure to follow these guidelines can result in a postponement of the appointment and a possible trip charge.
.

.
Q. I think my tub was refinished or painted before?
A. No problem.
If a surface has been previously refinished, it is likely an older or inferior product fail or improper equipment or craftsmanship during the application process. Many of our jobs in fact, are the repair of older failed refinished jobs, some even being more recent repair jobs from home store roll-on application products with no durability. Any failing surface requires removal or etching and preparation before Dennie's Resurfacing LLC begin our process. Prepping a tub this way usually adds on a minimum of an hour or so to the finish time as well as the increased labor, and therefore incurs additional costs.
.

.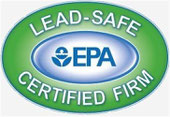 Q. Are the products used harmful to my drains?
A. No. Unlike older products or alternative products used by other refinishers, the products that we use today are eco-green products being approx. 90% waterbased. This means that any active ingredient in the solution becomes deactivated upon contact with more water. Therefore, the solution will flow through your pipes once the faucet is turned on with no damage being caused. Some companies may in fact use this threat in their product comparisons, but it is simply an empty threat.

.

.
Q. Is the smell of the non-green product harmful to pregnant women, infants or the elderly?
.
A. Probably maybe, so we just say Yes to be safe. The smell of the urethane coatings is the strongest on the day of service and then dissipates daily with ventilation and use. We use a ventilation system while we are working, to direct all air-born particles off premises via the closest window. As standard, we carry a 25ft hose, and also a 50ft hose for those areas where we work with no exterior windows in the room, to ensure that the fresh particles are always being removed. The smell dissipates with use (ready for use after 24hrs) and of course ventilation, but under normal circumstances there should be just a faint smell in the room after a few days. In cases where there are individuals sensitive to the smell, some clients plan to stay with family for a few days, and some even schedule it together with their family getaway so that the work is completed when they get home.
Helpful tip! After the 24hr dry time, if the smell is still bothersome to some, wash the finish down with a soft sponge in a simple vinegar and dish soap mixture. Finish it all off with a towel dry and see the shine!
Q. Is my tub or tile too old and damaged to be renewed?
A

. Probably not. It is a common misconception that rust, cracks, chips and flaking make a tub or tile irreversibly damaged. However with our expert resurfacing technicians being backed by the highest quality products and using professional precision tools, most tubs, no matter how damaged you may think it is, can be restored to its original beautiful elegance. Most common types of abuse to tile can be repaired, and with resurfacing tile is given a brand new and durable coat of synthetic porcelain, sealed water-tight. We even know a guy who specializes in grout services if you need some work done there too!
.

.
Q. I'm not sure what kind of tub or sink I have?
A. No problem! If a tap on the side doesn't let you know if it is fiberglass/plastic or cast iron, we can assist. Give us a call to set up a free consultation at your convenience and we will come by and answer any questions you may have. Not fast enough for you? Snap a picture on your phone and text it to 484.554.1807. We have products and processes for all kinds of surfaces - Porcelain, metal, steel, cast iron, ceramic,  fiberglass, plastic, even wood and marble.
.

.
Q. When does reglazing not work?
A. Reglazing is typically a successful process, lasting thousands of our clients for years past their 5 year warranty. Like many services however, sometimes there are difficulties that can affect the outcome of the finish. Many issues such as adherence, humidity, equipment issues etc. are covered by our warranty. We will return several times until the issue is resolved or an agreement has been made on how best to proceed, using our best judgement and experience. However issues such as a leaking faucet or human interference within the initial 24hour drying period are not covered by our warranty. 
Q. What if I used a box kit?
A. We understand the allure of saving money with DIY projects, hey we tried them too for testing, however the following is the course of events that we witness in these scenarios;
1. Property owner or handyman buys home kit and applies it to the desired areas.
2. Property owner starts noticing the finish failing or lifting, being damaged easily, or has dulled fast (sometimes sooner than 6 months)
3. Estimates from reglazing companies charge extra to remove the failing finish before applying their own products.
4. Property owner is eventually financially negative, as well as the initial time and effort put in to the DIY project, while now watching the failing finish worsening over time. They are left with 2 options being replacement or professional reglazing.
Q. Why choose us?
A. Our clients speak for us. We encourage ALL research before hiring a company for anything! Please check reviews of all companies online from multiple sources, paying special attention to company names and franchises (who can pay to remove negative reviews or hire random 'reglazers' to service you). We do not attempt to remove any online negative comments with 3rd party marketing companies, feeling confident that there are only a handful of projects that didn't work out in comparison to the thousands of beautiful and successful surfaces we have sprayed since 2010. While there are many honest service providers out there, there are some individuals who will give the reglazing industry a bad reputation, trying to earn a quick buck, cutting corners with product quality, preparation processes and warranty details. Be wary of low bids on your project, as well as over priced quotes. Our reputation is strong, and our prices are fair, which is what we all need in a service provider.
.
.
.
Q. Why is my caulk moldy?
A.

Depending on the manufacturers brand and durability of your caulk or sealant, your caulk may need to be removed and reapplied if it gets moldy over time. Not only does it look unsightly, but it harbors bacteria and germs. Many search results will appear when you look up how to remove caulk, and once you pull it out, the image below is the method we recommend to our clients for reapplication. The performance of caulk and silicon sealants are not the onus of Dennie's Resurfacing LLC. If the replacement of caulk is not something you would like to handle, you can definitely give us a call to come and take care of it for you.